Pet Surgery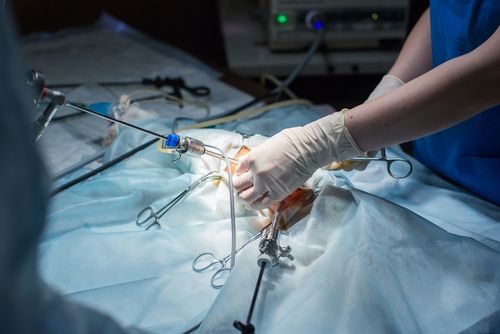 When a veterinarian in Castle Rock recommends a surgical procedure, you want to feel comfortable with the process and understand the potential concerns and risks associated with the situation. At our clinic, we provide the information you need before a pet surgery to keep your pet as healthy and happy as possible. Our team offers details about potential risks, the expected results of the procedure and recovery from the procedure.
Surgical Procedures We Offer
The procedures we offer depend on the needs of your pet. At Brekke Veterinary Clinic, we take the health of your pets seriously and offers several treatment options to address basic health, complications with aging pets or even injuries from activities with the family.
Common procedures we offer include:
Spaying and neutering for population control, reducing the risk of certain unwanted behaviors and reducing the risk of certain medical health concerns or infections

Eyelid protrusion, or cherry eye, which removes the protruding glands around the eyes

Removal of growths or masses, such as benign and malignant cancer

Removing an eye when necessary

Gastropexies, which reduces certain gastro-intestinal health concerns

Removal of the spleen

Removal of stones, particularly bladder stones or cancer

C-sections for pregnant pets

Orthopedic surgery to repair certain injuries, like ACL repair or hip dysplasia
Our team handles most surgical procedures for your pets. We take measures to protect an animal from severe health concerns by addressing problems early and keeping owners educated about the possible problems that may arise as an animal ages.
What to Expect From Treatment
During a surgical treatment, our team monitors an animal's vitals using the most up-to-date technology and tools. We eliminate pain with appropriate medications before, during and after the procedure. Our team watches your pets during the procedure to limit the risk of negative reactions to any medications or treatments. We also monitor the animal after he or she comes out of surgery and recovers from anesthesia. Dr. Jay offers surgical treatments during weekdays and on Saturdays, so you can plan the procedure during a convenient time.
Preparing for Pet Surgery
Before the procedure, we recommend an initial consultation to evaluate the needs of your pets. Notify our team at least 24 hours in advance if you give an animal any medication. As a general rule, pets should not eat any food after 10:00 PM the night before the surgery. You can put out water throughout the night and early morning.
We take blood before surgery for any pets over 6 years old and we recommend blood work for all pets. If a procedure requires medical monitoring during initial recovery, then we may keep your pet at our clinic during the first days of recovery.
Contact Our Veterinarian in Castle Rock Today to Learn More about Pet Surgeries
Treating pets for unexpected problems requires a veterinarian with experience in Castle Rock. Our team provides the tools you need to keep your pets healthy and active. For more information about procedures or to set up an appointment, contact us today at 303-474-4260.