Testimonials
"We are pet parents to an English bulldog puppy and Dr. Jay and his tech Valerie were AMAZING. The office visit was customized and unrushed. Dr. Jay was extremely knowledgeable about the breed and provided us with a ton of helpful information. We believe our sweet bulldog will be well taken care of!"
- Kenya C.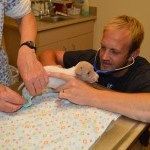 We've been clients of Dr. Jay Brekke for the last year and a half. During that time we have been very pleased with his services to our dog rescue. He is very gentle with the animals, and he always goes above and beyond in his care. We've come to depend on his knowledge and thoroughness, especially in more difficult cases. We know we can always depend on him to provide the best care for our dogs.
- Ty & Sara Castle Rock, CO
Our experience with Dr. Jay has been nothing short of absolutely amazing! Dr. Jay truly cares about the animals he works with as we've personally experienced with our lab, Dexter. We have been going to Dr. Jay since Dexter was just over 8 weeks old (he is now 2). Dr. Jay has not only built a genuine relationship with us, but with our dog as well. Dexter absolutely adores Dr. Jay and, as crazy as it sounds, LOVES going to the vet!
- Brittany & Jeremy Castle Rock, CO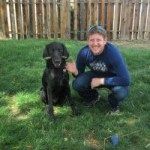 Dr. Brekke treated our dog Brinkley when he came down with an autoimmune disease in the Spring of 2014. Brinkley, our 105 lbs Black Lab/ Great Dane mix had Immune Mediated Hemolytic Anemia (IMHA). This is a disease in which the immune system attacks the bodies red blood cells, Brinkley's immune system was destroying his blood. Dr. Brekke diagnosed and treated Brinkley over the next 14 months, he put in a great deal effort outside of clinic hours meeting us at the clinic for medication refills and contacting us at home in the evenings to talk over Brinkley's treatment and taking our calls when concerns arose. This month Brinkley completes his treatment and is among the 20% of Dogs to survive this disease. Dr. Jay Brekke is a highly skilled and compassionate Veterinarian, we greatly appreciate and would highly recommend him.
- Ryan and Sandra Kerr Castle Rock, CO
Feel free to leave your feedback below. We'd love to hear from you!